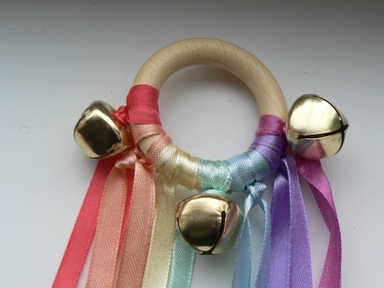 Praise and Worship Rainbow Ribbons
A beautiful gift
7th October 10

The Lord is saying: You are on the brink of a breakthrough. Keep pressing forward, you are not quite there yet. But as you press through, the floodgates will open and your answer will come and you will find yourself in a larger place

Isaiah 55 - Come all you thirsty
Recently I received revelation about Isaiah 55 pertaining to seeking the Father for wisdom. This helped me to see why the method I have of asking God for His wisdom is so satisfying and productive. There is nothing in my life as wonderful as listening to God the Father and letting Him give me wisdom when I ask for it. I would not trade this for all the money in the world.

And this is life eternal, that they might know thee the only true God, and Jesus Christ, whom thou hast sent.

I have had further revelation on how Isaiah 55 connects to the Our Father prayer, Parable of the Sower and other scriptures. We can make sure that our hearts are good ground for a good harvest of God's blessings.

I believe that this will be an inspiration ......

(Please remember that there is no way to the Father, but through Jesus. I am presuming that you know the Lord, if not you will need to ask the Lord Jesus to come and be the Lord and Saviour of your soul, before you can have a two way conversation with God the Father.) Jesus answered, "I am the way and the truth and the life. No one comes to the Father except through me.
Isa 55:1 Ho, every one that thirsteth, come ye to the waters, and he that hath no money; come ye, buy, and eat; yea, come, buy wine and milk without money and without price.
Mat 6:6 But thou, when thou prayest, enter into thy closet, and when thou hast shut thy door, pray to thy Father which is in secret; and thy Father which seeth in secret shall reward thee openly.
Isa 55:2 a Wherefore do ye spend money for [that which is] not bread? and your labour for [that which] satisfieth not?
Mat 6:11 Give us this day our daily bread.

A Method of Hearing the Father
Lay down all your own thoughts, opinions, knowing that God's thoughts are so much higher than yours. (It helps me to lay prostrate as a sign of my full surrender, especially when the matter is of great importance)

Choose to forgive all.

Proclaim these following promises, choosing to believe that God will come through with wisdom.
Jam 1:5,6 If any of you lack wisdom, let him ask of God, that giveth to all [men] liberally, and upbraideth not; and it shall be given him. But let him ask in faith, nothing wavering.
Heb 11:6 But without faith [it is] impossible to please [him]: for he that cometh to God must believe that he is, and [that] he is a rewarder of them that diligently seek him..

Imagine these promises are like bricks of gold and you are standing with your feet on these promises.. you decide you will not waver from believing that the Lord will give wisdom as you ask. Await His wisdom, keep putting down your own thoughts and opinions as they come. He will speak....
And ye shall seek me, and find [me], when ye shall search for me with all your heart



Mat 13:19 When any one heareth the word of the kingdom, and understandeth [it] not, then cometh the wicked [one], and catcheth away that which was sown in his heart. This is he which received seed by the way side .
Isa 55:2a hearken diligently unto me....
....and eat ye [that which is] good, and let your soul delight itself in fatness.

You will get a sense of what the Lord is saying as you wait on Him. It will be an assurance in your innermost being of His will.
Keep going back when the Father has spoken, to check and double check that you have understood Him. Don't come away until you have it firmly in your innermost being what He is saying.
His word will penetrate to the deep regions of your being. In your 'belly'. You need to wait upon that word and when it comes you feel it right deep down in your stomach, maybe not voice but a 'knowing'.

... Deep down inside me you teach me wisdom. Psalm 51:6 b


Mat 13:20,21 But he that received the seed into stony places, the same is he that heareth the word, and anon with joy receiveth it; Yet hath he not root in himself, but dureth for a while: for when tribulation or persecution ariseth because of the word, by and by he is offended.
Heb 12:15 Looking diligently lest any man fail of the grace of God; lest any root of bitterness springing up trouble [you], and thereby many be defiled;
Mat 6:12-15 And forgive us our debts, as we forgive our debtors.
And lead us not into temptation, but deliver us from evil: For thine is the kingdom, and the power, and the glory, for ever. Amen.
For if ye forgive men their trespasses, your heavenly Father will also forgive you:
But if ye forgive not men their trespasses, neither will your Father forgive your trespasses.
You need to do the exact opposite of what you feel when you are persecuted for the word you have heard, not to just try to forgive and be passive but to actively praise and go out of your way to pray for and love those who have brought the offence, therefore you will replace the root of doubt and bitterness with joy and love.
Mat 5:10-12 Blessed [are] they which are persecuted for righteousness' sake: for theirs is the kingdom of heaven.
Blessed are ye, when [men] shall revile you, and persecute [you], and shall say all manner of evil against you falsely, for my sake.
Rejoice, and be exceeding glad: for great [is] your reward in heaven: for so persecuted they the prophets which were before you.
Mat 5:44 - 48 But I say unto you, Love your enemies, bless them that curse you, do good to them that hate you, and pray for them which despitefully use you, and persecute you;
That ye may be the children of your Father which is in heaven: for he maketh his sun to rise on the evil and on the good, and sendeth rain on the just and on the unjust.
For if ye love them which love you, what reward have ye? do not even the publicans the same?
And if ye salute your brethren only, what do ye more [than others]? do not even the publicans so?
Be ye therefore perfect, even as your Father which is in heaven is perfect.
Your thoughts are the roots. Its important to clear the ground of any unforgiveness to prepare for the word of God and to deal with persecution when it arises afterwards with great praising and love.


Isa 55:3 - 7 Incline your ear, and come unto me: hear, and your soul shall live; and I will make an everlasting covenant with you, [even] the sure mercies of David.
Behold, I have given him [for] a witness to the people, a leader and commander to the people.
Behold, thou shalt call a nation [that] thou knowest not, and nations [that] knew not thee shall run unto thee because of the LORD thy God, and for the Holy One of Israel; for he hath glorified thee.

Seek ye the LORD while he may be found, call ye upon him while he is near:
Isa 55:7a Let the wicked forsake his way, and the unrighteous man his thoughts:
Isa 55: 7b and let him return unto the LORD, and he will have mercy upon him; and to our God, for he will abundantly pardon.

Mat 6:7&8 But when ye pray, use not vain repetitions, as the heathen [do]: for they think that they shall be heard for their much speaking.
Be not ye therefore like unto them: for your Father knoweth what things ye have need of, before ye ask him.
Ask Him for His will in the given situation.
Mat 6:9&10 After this manner therefore pray ye: Our Father which art in heaven, Hallowed be thy name.
Thy kingdom come. Thy will be done in earth, as [it is] in heaven.

Mat 13:22 He also that received seed among the thorns is he that heareth the word; and the care of this world, and the deceitfulness of riches, choke the word, and he becometh unfruitful.
Mat 6:31 Then do not be anxious, saying, What may we eat? Or, what may we drink? Or, what may clothe us?
Mat 6:32 For after all these things the nations seek. For your heavenly Father knows that you have need of all these things.
Mat 6:33 But seek first the kingdom of God and His righteousness, and all these things will be added to you.
Mat 6:34 Then do not be anxious for tomorrow. For the morrow will be anxious of itself. Sufficient to each day is its own trouble.
Lay your own opinion down and seek first His Kingdom and His will in the given situation and also understand that You don't have to worry about how God will supply the resources to bring about His revealed word. Don't place your trust in anything but Him. He is your source of supply. Don't be overwhelmed by how God will bring about a situation in your life, but obey what He has asked you to do, He will guide you daily as you seek Him...and keep believing



Isa 55:8 For my thoughts [are] not your thoughts, neither [are] your ways my ways, saith the LORD.
Somehow by laying down your own thoughts, and coming before the Father, you are getting rid of the roots of your own opinions and thoughts that would have brought forth prickles and briers and thorns in your life and circumstances, eventually. You are getting rid of them, creating a 'clear garden' so that you can receive the 'seeds' (thoughts) of the Father which will bear good fruit. Its important to know that your own opinion is worth zilch compared to the opinion of the Father.
Isa 55:9 For [as] the heavens are higher than the earth, so are my ways higher than your ways, and my thoughts than your thoughts.


Isa 55:10 & 11 For as the rain cometh down, and the snow from heaven, and returneth not thither, but watereth the earth, and maketh it bring forth and bud, that it may give seed to the sower, and bread to the eater:
So shall my word be that goeth forth out of my mouth: it shall not return unto me void, but it shall accomplish that which I please, and it shall prosper [in the thing] whereto I sent
it.
God's word brings power with it to perform that which He has planted within you.
Mat 13:23 But he that received seed into the good ground is he that heareth the word, and understandeth [it]; which also beareth fruit, and bringeth forth, some an hundredfold, some sixty, some thirty.
Isa 55:12 For ye shall go out with joy, and be led forth with peace: the mountains and the hills shall break forth before you into singing, and all the trees of the field shall clap [their] hands.
Isa 55:13 Instead of the thorn shall come up the fir tree, and instead of the brier shall come up the myrtle tree: and it shall be to the LORD for a name, for an everlasting sign [that] shall not be cut off.

Shirley
shirleyhowitt@yahoo.co.uk
(Some people have mentioned that the link to my email doesn't work..... sorry... it looks like if you want to email me you'll have to compose a message and type my email address into your To box) P.s I'd love it if you could email me with some feedback, to correct or encourage would be a blessing.



.
House of Bread
Sunday meeting - 3.30pm
Danum Hotel,High St, Doncaster, DN1 1DN
Prayer Requests
Please pray for B who has an ulcer on his leg. Pray that it will heal up completely. Thanks.

Pray for M that she will be able to wake up in the morning and be happy instead of battling the depression that comes at her. We are wanting a full healing. In Jesus's precious name.

Please pray that a transaction will go through that will make a huge difference in our lives and I believe for the Kingdom. God's will only. In Jesus Name.

Sue died on Tuesday. Pray for her husband and family that they will be comforted.

Pray for K that she will recover completely and for any procedure necessary that she will be strong.
Much the same prayers this week!!! But could you please intercede for K as she has no appetite and has complained of being a bit yellow again.
The Word of the Lord Ministries Int'l
Katey Moreland
What Katey's doing next.......
Just Joking

Terri asked her Sunday School class to draw pictures of their favorite Bible stories. She was puzzled by Kyle's picture, which showed four people on an airplane, so she asked him which story it was meant to represent.
"The Flight to Egypt," was his reply.
Pointing at each figure, Ms. Terri said, "That must be Mary, Joseph, and Baby Jesus. But who's the fourth person?"
"Oh, that's Pontius – the pilot.

A little girl was sitting on her grandfather's lap as he read her a bedtime story.
From time to time, she would take her eyes off the book and reach up to touch his wrinkled cheek. She was alternately stroking her own cheek, then his again.
Finally she spoke up, "Grandpa, did God make you?"
"Yes, sweetheart," he answered, "God made me a long time ago."
"Oh," she paused, "grandpa, did God make me too?"
"Yes, indeed, honey," he said, "God made you just a little while ago."
Feeling their respective faces again, she observed, "God's getting better at it, isn't he?"