Little Isaiah Jackson has an unbelievable gift from God. He said his momma tells him how to pray but God tells him WHAT to pray. This powerful prayer is from the Potter's Church. Hallelujah, Amen!

This 8-month-old baby just can't help but burst out in hysterics when his daddy rips up a job rejection letter.

I'm leaving this folowing on for another week as I believe it is so significant.

WHAT can HAPPEN when CHRISTIANS UNITE, FAST and PRAY.

God comes to town!!!

Revival comes, miracles happen. pubs close down, violence stops, crime rate go down. Jails close because there is no need of them. People go back to work. Agriculture comes to life, ground becomes fertile.

See a carrot as big as a man's arm...watch this amazing video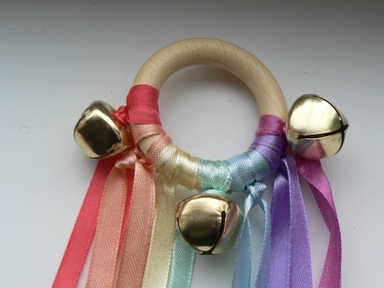 Praise and Worship Rainbow Ribbons
A beautiful gift
6th March 2011

The Lord is saying. You are on the up and up. You are stepping into great victory. Many have been the attacks and persecutions, but as you rejoice you will see the showers of blessings and taste and enjoy sweet victory.

Jigsaw pieces in their right places!!

Wouldn't it be so wonderful if everyone was doing just what they were designed to do and to be in their rightful position. Imagine the productivity!!!!

Look at the human body, imagine if the ear, was trying to see, or a heart trying to do the kidney's job. What a silly notion. And yet in the body of Christ that is how we function sometimes. We've yet to see a time where the body of Christ work together as they were really meant. What a wonderful sight to behold, the church will be when that happens.

Ephesians 4:11-16 (New International Version, ©2011)

So Christ himself gave the apostles, the prophets, the evangelists, the pastors and teachers, to equip his people for works of service, so that the body of Christ may be built up until we all reach unity in the faith and in the knowledge of the Son of God and become mature, attaining to the whole measure of the fullness of Christ.

Then we will no longer be infants, tossed back and forth by the waves, and blown here and there by every wind of teaching and by the cunning and craftiness of people in their deceitful scheming. Instead, speaking the truth in love, we will grow to become in every respect the mature body of him who is the head, that is, Christ. From him the whole body, joined and held together by every supporting ligament, grows and builds itself up in love, as each part does its work

Where did the church get the idea that a 'pastor' should be a one man band who does everything? How many times do you see a leader of a church who has many gifts but not pastoral and yet is called pastor? When do you see prophets being called upon to find out God's will for a church? Imagine what it would be like for a church to flow in all the gifts. The five fold ministry given its full authority and the gifts in all the members given there honour.

Whenever there would be a need, someone's gift would fulfil that need. The problem is whilst ever someone is filling a position that was not meant for them, the person who has been called to that gifting is being hindered.. We need to humbly submit ourselves to God and to each other and let Him put us in our right positions

Imaging building a house and the electrician doing the plumbing and the bricklayer doing the plastering, The carpenter laying the roof. Oh God! please put us in our right positions, rightly connected and doing the things you've called us to do..

1 Corinthian 12: 7-11 A spiritual gift is given to each of us so we can help each other. To one person the Spirit gives the ability to give wise advice; to another the same Spirit gives a message of special knowledge.The same Spirit gives great faith to another, and to someone else the one Spirit gives the gift of healing. He gives one person the power to perform miracles, and another the ability to prophesy. He gives someone else the ability to discern whether a message is from the Spirit of God or from another spirit. Still another person is given the ability to speak in unknown languages,while another is given the ability to interpret what is being said. It is the one and only Spirit who distributes all these gifts. He alone decides which gift each person should have..

When a jigsaw piece is forced in the wrong place in a jigsaw It frustrates the whole process. Not only does it look wrong in that place but the whole picture looks wrong. There is a space waiting somewhere else for that piece and it is taking up space that should be filled by another piece. The picture is all disjointed.

Similarly if a piece of jigsaw is in the right place but not fitted correctly, upside down or the wrong way round, the picture still will not look right.

Each person in the body of Christ needs to be in its rightful position and also rightly connected. To be rightly connected is to be led by the Holy Spirit in our giftings and not to be trying to do things our own way and in our time . Jesus Himself did only what He saw His Father doing.

John 5: 19 Jesus gave them this answer: "I tell you the truth, the Son can do nothing by himself; he can do only what he sees his Father doing, because whatever the Father does the Son also does.

Let us pray that the church will come into its rightful order.

Fear Not My Child

(Taken from Katey Moreland's book, Fear Not My Child, yet to be published)

Week 30 (04.03.11)

'
It is a sign between Me and the children of Israel forever;
For in six days the LORD made the heavens and the earth,
And on the seventh day He rested and was refreshed
Exodus 31: 17



Recently, one of my young nieces told me she could out-do me in the cooking department, making a tastier dish. One day, she may, but right now she's just starting-out. It seems to me Christians who refuse to take a day of rest once a week are like that, itching to out-do God. God rested on the seventh day and in it He was refreshed. It may seem difficult to refuse all the demands routine and people put on you, but resting really does hold great value. When you've been refreshed you're more competent, can achieve much more in the time allocated - and usually you're easier to get-along with too! So why not give God a chance, let Him teach you how to rest?

Dear LORD God,
After You created the world and filled it with life, You rested and were refreshed. Sometimes I think I have no time to rest; there's so much to do! Sometimes I think I don't deserve to rest, proving my worth through being busy. Sometimes I intend to rest, but demands eat my time away. Please help me, in Jesus' name, to deal with these different issues in learning from You to take time to be refreshed in spirit, soul and body. In Jesus' name, Amen!




I would be pleased to hear from you, therefore I have created a contact form, for you to send me your thoughts or questions etc. Shirley
Sung and played by Shirley
Prayer Requests
Received this today. A will be grateful for your prayers.

Please can you prayer for my son (daily if you can) that the Lord will give him the strength and willpower he needs to keep the devil away from his door!!!! All addictions will be broken in the mighty name of Jesus and that he will come to find peace and joy in his life and that his life is turning around for the better.

Many thanks - the more people we have praying for him the better, so if you want to forward this email on then please do so. I really feel that this time he is going to come through to the light. Amen

God bless you all.

A
xxx

Please pray for a lovely young couple who love Jesus so much. They are being torn in their decisions about the church they are in. Please pray that they will be kept safe in their marriage and service for the Lord and that every plan of the enemy is brought to nothing.

Urgent prayer for the P family. The husband very sick. His wife's memory span is very short and there is a lot of pressure on their daughter at this time. Please pray for a miracle and God's will and mercy in this situation.

I am being accused of something that is almost too ridiculous to contemplate, but is causing much pain to the people from which this lie has originated and their relationship, and also anyone coming near this darkness. I really need your prayers that the Lord will vindicate, and bring to light the truth and do something wonderful in this, healing all involved.. Not just for their sakes but for the Name of the Lord, my ministry, and the wonderful things that God is doing in the place He has positioned me. . I know that no weapon formed against me will prosper. Pray for strength for me to stand and every plan of the enemy to be brought to nothing. Shirley

Jack has cancer please pray for recovery.

Christian Bookshop
Having a great time. The Lord is sending divine appointments all the time. Its very exciting...
Something I am learning.. is that the understanding that God would send a river of revival where the floods devasted North Doncaster in 2007 is proving true. I am getting visits from Skellow, Askern, Tollbar.... lovely people on fire for Jesus. Many new born again Christians. Its wonderful and such a privilege to be in a position to meet them... Praise the Lord.
The Word of the Lord Ministries Int'l
Katey Moreland
What Katey's doing next.......