Adventures in India
17th December 09 -Time to go home
We were looked after so well in Chennai. Caroline and her servants were wonderful to us and fed us so well.
.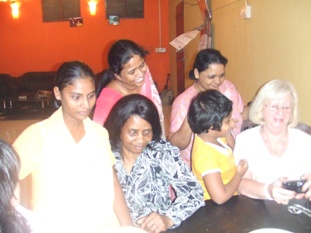 God's Favour in Bahrain
We had a lovely day shopping. On waving goodbye to Manasseh and Joshua, I felt I was not to be concerned about anything. God would provide all our needs. We didn't have a penny left even to buy a bottle of water in the airport. We'd either given it away or spent it. I hate not having water with me and Gudrun didn't tell us till after but she was dehydrated. I went to a shop in the airport on the off-chance I could use my card to get water. The group watched me not really thinking I'd got much hope. The shop assistant called the manager over. He nodded to her to give me a bottle of water free. I came back triumphant praising God, holding the large bottle of water in the air..
Again I had 3 seats on the plane. Thanks to answered prayers that I could sleep horizontal, I had a great nights sleep!!!
We weren't looking forward to the 10 hour stop in Bahrain, but the Lord told me to praise in all things and not grumble. A hostess told us to try and see if we could get on the 10. am flight as we would be landing at 6.am and waiting till 4 am would be such a long time. On arrival we asked but no.... it wasn't possible so they offered us a day in Bahrain. Wow..... A uniformed chauffer in a beautiful posh vehicle, drove us to the most amazing top class hotel through the lovely clean calm streets of Bahrain. (Such a contrast to India).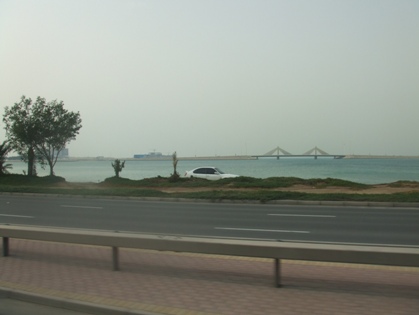 We were shown to two luxury ensuite bedrooms with the softest beds you could imagine. Anita and I went swimming in this luxury pool all to ourselves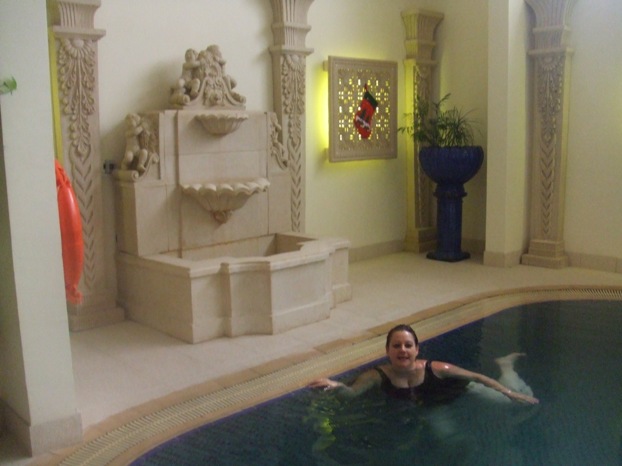 We then sunbathed in the warm sun of Bahrain before being waited on in the most amazing restaurant with gorgeous food. A call came to our bedroom later that the chauffer was read to take us back to the airport for the flight back to England.
Imagine sunbathing in Bahrain and landing in snow in England just a few hours later!!!!