The Lord is saying. Keep walking, keep following, do not lag back. Victory is sure in me. Stay in me, abide in me and you will see great fruit. But without me you can do nothing and if you lag behind, you will soon see things become difficult again. Stay by my side child. I have called you to impossible tasks and only in me can you fulfil your calling.
Abide in me, and I in you. As the branch cannot bear fruit of itself, except it abide in the vine; no more can ye, except ye abide in me. 5 I am the vine, ye are the branches: He that abideth in me, and I in him, the same bringeth forth much fruit: for without me ye can do nothing. John 15:4

Adventures in India
....Friday 11th December 09
Such a busy day..... In the evening we were taken to Brother Raju's church to a ladies meeting where Shirley gave a word about not limiting God.
After that we were taken to another church as Anita writes "This church was really bright and clean and decorated with passages from the bible. The children were all enthusiastic and sang songs with such conviction. it made your heart melt".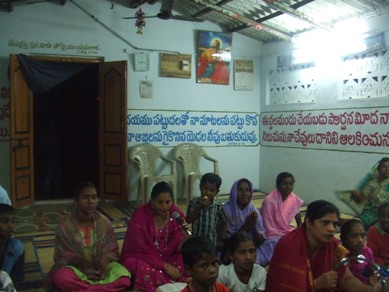 This little chap could really play the drum. He was such a character!!! You can hardly see his arms moving, he played with such gusto.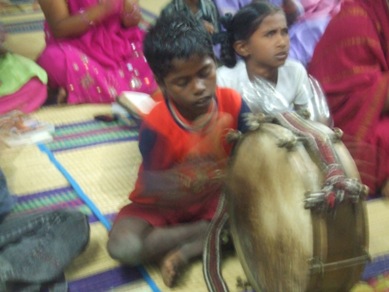 We had a wonderful time of fellowship and prayed for the people. Gudrun told me later that a lady's husband who had just brought her to meeting but wouldn't come in, later that evening got saved, (Thanks to Gudrun's evangelistic anointing).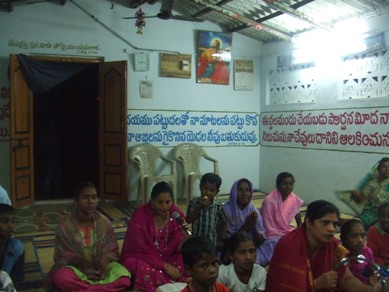 On our way home we stopped at a house and was asked to pray for a man who was dying with cancer. Anita writes "My heart went out to the family and I left so humbled and unworthy that they wanted us to go and pray for this man. It is only through the Lord's grace that we are able to do this as we are nothing special, but He is and He can do anything for nothing is impossible for Him."
Little did we know then, as Anita wrote these words of faith that this man who looked like he was in a coma, received his healing that night. He got up from his deathbed and started to be able to go to the bathroom on his own and turned up at his church to declare he was healed after 'some people' came to pray for him.
Read the Brother Raju's wonderful testimony
of how God used us to
pray for a dying man ...
See Gudrun's newsletter about India