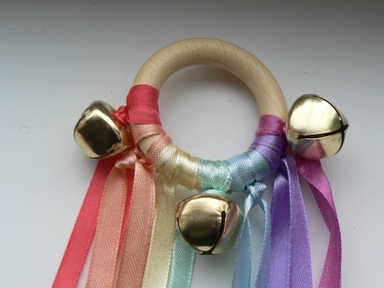 Praise and Worship Rainbow Ribbons
A beautiful gift
30th September 10

I am with you to help you to get through this. I will guide your footsteps. Keep walking forward and rejoicing. This is my will for you. You have not come this far to turn around. We will make it through together.

27th September 10

The Lord is saying: You are in my hand, don't think of running, be strong and do not quit. I am with you to uphold you and I will give you all you need.

23rd September 10

The Lord is saying: Forget the past mistakes. This is a new day. A day of promise. You shall not fail as you have done in the past. You shall succeed at all you put your hand to. Do not look back, but look forward with hope. I am with you in this venture and will undertake for you.

What a wonderful thing!
Imagine that in Deuteronomy it tells the Jews that if they fulfil all the requirements of the law that they will get all the blessings.... Thirteen of them. If they didn't... they'd get the fifty two curses. Talk about reversal of the curse. Jesus fulfilled all the requirements of the law so that none of the curses would fall on us but that we would get all the blessings. Our part is to remain in Jesus. What a deal!! Amazing God... how can it be... that my King would die for me.

shirleyhowitt@yahoo.co.uk
(Some people have mentioned that the link to my email doesn't work..... sorry... it looks like if you want to email me you'll have to compose a message and type my email address into your To box) P.s I'd love it if you could email me with some feedback, to correct or encourage would be a blessing.



.
House of Bread
Sunday meeting - 3.30pm
Danum Hotel
High St
Doncaster
DN1 1DN
Prayer Requests

Please pray that a transaction will go through that will make a huge difference in our lives and I believe for the Kingdom. God's will only. In Jesus Name.

Sue died on Tuesday. Pray for her husband and family that they will be comforted.

Pray for K that she will recover completely and for any procedure necessary that she will be strong.
The Word of the Lord Ministries Int'l
Katey Moreland
What Katey's doing next.......
Just Joking
There will be a meeting of the Board immediately after the service," announced the pastor.

After the close of the service, the Church Board gathered at the back of the auditorium for the announced meeting. But there was a stranger in their midst -- a visitor who had never attended their church before.

"My friend," said the pastor, "Didn't you understand that this is a meeting of the Board?"

"Yes," said the visitor, "and after today's sermon, I suppose I'm just about as bored as anyone else who came to this meeting."