The Lord is saying. Child go and tell every living creature the good news. The Kingdom of God is here, The kingdom of darkness reigns no more. Go and tell the weary ones who serve a cruel and merciless taskmaster, that his authority has been stripped from him and the Good King is in charge!!!!

I don't know how many days ago.. but I asked the Lord to show me what He meant when He preached about the Kingdom of God .
I couldn't rest
Last night I was so agitated and over-tired. Thoughts were flashing through my head and adrenaline rushes were hitting the pit of my stomach.. There was still so much to do: I had pushed myself hard all day and still had a meeting to face. I was comforted by the fact that all we do in this particular meeting, for about an hour, is listen to the Lord in silence. Yet my stomach churned with anxiety and the weight I felt of other's burdens and the demands on me were making it hard to quieten myself to listen, I just couldn't relax.
As I met with Him in the silence, Jesus looked and spoke kindly to me. "Who would you like to speak to?" It looked like the Lord was going to take me to meet someone; I didn't recall this ever happening to me in one of these meetings.
It was my choice. I wanted him to choose, but no... He wanted me to choose from the biblical characters He had introduced me to over the years. I didn't want to be offensive to any of them, but I needed someone very gentle, loving and sensitive, because I couldn't deal with anything more than that.
I decided on St John...... Jesus and I walked up the grassy hill and knocked on the door of the house I am so familiar with. As usual John met me warmly. And as usual I was to get out of the clothes that had been soiled by the things of the world. He put a warm white blanket around me and fluffy slippers and I had a lovely comfortable silky embroidered white nightgown on. I walked up to the lovely room with the veranda, where I had met Jesus many times. The Victorian type of settee that I had sat on before was there, and it was lovely but much too formal. Something like this below...although there is nothing on this earth that can touch the beauty and elegance we see in the heavenly realm.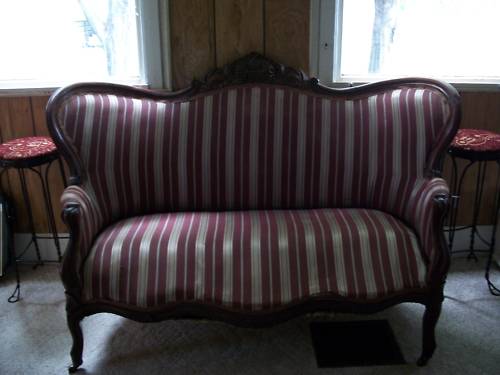 A Beautiful Scene
I needed somewhere I could rest. There, in front of a comforting lit coal fire was a deep pile, fluffy, white rug. I curled up on it , but still couldn't relax.. Suddenly, the next moment, I was in a beautiful garden on a swing. Jesus pushing from the front and John from behind me . I asked if I could lay down, so I laid on this delightful swing that was hanging from the most beautiful tree, its bowed limbs that were heavy with blossom reached out wide to give shade and support to the rope which held the swing..
Jesus asked me some questions about some people who had hurt me or laid too much of a burden on me. He asked me to give my burdens one by one to him and to forgive, and then John would have something to tell me. I began to feel more peaceful.
Walk into your miracle

John told me that he wanted to discuss with me about the scripture I had been studying where he and Peter I had healed the lame man by the power of God. When Peter had said "In the name of Jesus arise and walk", he pulled the lame man to his feet and right there and then his ankle bones were made strong.
John said to me " Every miracle starts with a step". We have to take a step into the kingdom of light and out of the darkness and bondage of the enemy. He showed me this principle always applied when there is a miracle. For example the loaves and fishes, the disciples had to start handing out the bread and fish from the baskets. The woman with the issue of blood, took hold of Jesus's garment . Jesus told the paralysed man to "Take up thy bed and walk". If we want miracles we have to take a faith step.. Its usually a commonplace everyday we must do that causes the power of God to move and turns suddenly into the supernatural........ and the miracle happens. But we have to take the step of faith.
Revelation of the Kingdom of God
Then John asked me what I thought about the scriptures where Jesus had said he had been given authority over all flesh, .... go and make disciples of all nations. Well I thought about it and said I thought that the enemy has no longer got power but it has all been given to Jesus and He is Lord, and I added ....but most people don't obey. I thought it might mean that no one can stop us telling the people about Jesus because we have been given a mandate.
John explained if a King takes over a country and He is a kind King, unless the people knew that there had been a takeover of rulership they could be kidded into just keep serving the old king who is wicked, and be oppressed with heavy taxes and be in bondage and hard slavery.
Jesus said to "Go ye into all the world, and preach the good newsl to every creature." – Mark 16:15.
I knew that somehow the enemy keeps people in the bondage of sin, drugs etc. that they could be set free from, if only they knew that King Jesus was in charge now and believed in Him. I also knew that the biggest con of all that the enemy had pulled was in the church itself and he had used "religion" to bring people back under the law, making them think they have to try hard to win God's love. Its hard to think of God as a good God the way he has been portrayed in the church's history. But God is a GOOD GOD!
"I Have Come That They Might Have Life
And Life More Abundant!" John 10:10.
The lame man stepped out of the bondage of the enemy into the freedom and Kingship of Jesus who doesn't put sickness on people but took their sicknesses and gives us good things only.
"Giving thanks unto the Father, who has made us fit to be partakers of the inheritance of the saints in light. For he has delivered us from the power of darkness, and has translated us into the kingdom of his dear Son." Col. 1:12, 13
satan does everything possible to hide the truth about him losing authority
John said there was a third point he wanted to put over. He asked me what would happen if I went into town centre and started healing people, telling them to walk in the name of Jesus with great authority? He told me there would be opposition. The enemy would use authorities or religion or anything he could to make out he is still in charge and reigning on planet earth. BUT IT IS A LIE. Most people are living under a lie, even Christians. There is constant barrage of lies and opposition from satan trying to make out he is still king. Its a loud voice, but we have a gentle King who humble expects our trust, not so He can control us, but for our sake.. Jesus reigns!!!
Summing the evening up
I was in great form by now, no longer tired but relaxed and excited, about what John had taught me. As usual God gave me and my friends one mind. One friend got that God is a God of order and peace. The other friend got a picture of a telescope focussed on this well-ordered stripy field, and the scripture...
Psalm 16:6 The boundary lines have fallen for me in pleasant places;
surely I have a delightful inheritance.
We knew that the Lord was showing us that He was in charge of our lives and that everything was going according to plan. He caused us to focus on the truth of JESUS IS KING onto our own lives. He was saying that not one detail was out of synch!!! Its the same with your life. You need to believe it!!
JESUS REIGNS!!! ITS THE TRUTH. !!! AND IT WILL SET US ALL FREE.
PRAISING THE LORD IS OUR RESPONSIBILITY IN ALL SITUATIONS ACKNOWLEDGING THAT JESUS REIGNS..


Email