21st February 2011
The Lord is saying. For you it is a small thing to show me your faith in the everyday things, but to me it means the world. For it is in these small but significant moments when your heart turns to me and trusts me that brings a hush to the citizens of heaven. Faith means everything whilst you are walking upon the earth. It is the power that works miracles and brings heaven to earth. It is only the inhabitants of the earth that can display this faith whilst all is contrary to that trust. In heaven there shall be no more faith for there you shall know all things. There shall be no reason for faith. Make the very most of these days when you can believe in Me without seeing. For great is your reward.

Jesus drank the bitter
In Numbers 5:12 -5:31 it lays down the way that the Jews were supposed to find out whether a woman was guilty of adultery when her husband felt jealous and suspicious of her. It seems it was an ideal way of sorting out the unfortunate situation for the husband, as if she was innocent or guilty it was made very clear. Apparently the priest would give the woman a drink, a mixture of bitter water and other things that held a curse. If the water killed the woman she was guilty and if she flourished she was innocent.
Of course we know that Jesus drank the bitter and all sins can be forgiven, because of His death and suffering, and he took the curse.
But what if someone is wrongfully accused and is totally innocent of a crime. Jesus sometimes asks us to share in his sufferings. When we are wrongfully accused, this should be seen as a great opportunity to further the Kingdom of God and take ground from the enemy.
When Jesus died, he was totally innocent of all crimes laid against Him. He spoke not one word, but out of His own choice took on the sins of mankind, crying "Forgive them Father, for they know not what they do" He showed us the power of love.
The result was devastating for the kingdom of darkness. Jesus took from the devil the power of death and brought salvation to the world. We too can devastate the kingdom of darkness and share in the sufferings of Christ by not retaliating but forgiving and loving. By this we pick up our cross daily and follow Jesus.
In this lays great power....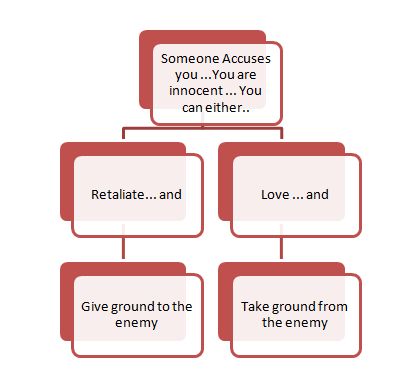 1Pe 3:9 - 1Pe 3:18 Not rendering evil for evil, or railing for railing: but contrariwise blessing;
knowing that ye are thereunto called, that ye should inherit a blessing. For he that will love life, and see good days, let him refrain his tongue from evil, and his lips that they speak no guile:

Let him eschew evil, and do good; let him seek peace, and ensue it. For the eyes of the Lord [are] over the righteous, and his ears [are open] unto their prayers: but the face of the Lord [is] against them that do evil.

And who [is] he that will harm you, if ye be followers of that which is good? But and if ye suffer for righteousness' sake, happy [are ye]: and be not afraid of their terror, neither be troubled;

But sanctify the Lord God in your hearts: and [be] ready always to [give] an answer to every man that asketh you a reason of the hope that is in you with meekness and fear:
Having a good conscience; that, whereas they speak evil of you, as of evildoers, they may be ashamed that falsely accuse your good conversation in Christ.

For [it is] better, if the will of God be so, that ye suffer for well doing, than for evil doing. For Christ also hath once suffered for sins, the just for the unjust, that he might bring us to God, being put to death in the flesh, but quickened by the Spirit: