The Lord is saying. I have wrought a great work, in and around you. You cannot comprehend the care and attention and planning that has gone into your restoration. Do not think that the years that the locust has eaten have been wasted, for those years have built you into the character that you are, strong and stalwart, standing against the enemy's wiles. No weapon fashioned against you has prospered but has brought you to this point where I can use you as broken bread and poured out wine. Your heart is tender and usable, for my broken ones, yet your spirit is strong and resolute to stand against the enemies of their souls


Adventures in India....Arrival in Chennai

I was so sad to leave Brother Raju and Enoch when they handed us over to Joshua and the jovial driver of the bus Manasseh. But Manasseh was so light hearted and said something like....that this was a new day and God had something exciting in store. He was great, and so happy. He had given his life up to help Joshua and Caleb with the church ministry.
I found the streets of Chennai bustling with people quite daunting and the sense of something not quite right pervaded the atmosphere. However when we arrived at the massive house that Joshua and his wife Caroline had.. it was a great relief for me, like a haven of light in the darkness. They had obviously claimed this ground and it could be felt in the atmosphere. I was glad of the rest in this peaceful atmosphere. We were to be well taken care of.
We were taken to Caleb's office, he explained that the church had a policy of praying intensely and that they had many wonderful breakthroughs. That evening we went out on the church bus through the humid streets of Chennai doing spiritual warfare. I soon learned why their church was so successful.
Later we had a great surprise. On returning home, a band turned up and the weirdest looking Santa Claus like I had never seen before burst in dancing. We danced with him. A good time was had by all.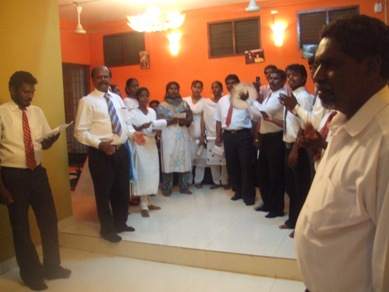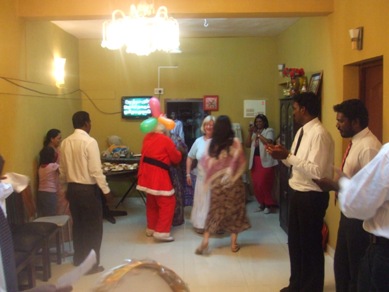 See first video on You tube from Adventures in India: Children dancing to "If your happy and you know it....."
See Gudrun's newsletter about India

.Inspirational Moments
by Catherine