Tragedy and Joy
I've loads to share about India. I think I'll have to do it on a day by day basis. There was so much we could hardly take it in....sometimes 3 venues a day, so much hardship to pray about, but so much joy as the children ran up to the cars as we arrived and danced before the Lord in their glee in the meetings... ...
Your prayers helped to get us home
But for today I want to give thanks to God for answering your prayers. Many factors could have stopped us getting back. Strikes in Tenali threatened to stop the train back to Chennai on Monday. Floods in Chennai were getting really bad until prayer stopped the rain forecasted to be heavy for another day. Then Kay heard that the they were stopping flights from Chennai to England yesterday because of the snow. We only just made it home!!
Horizontal Sleep!!
I was able to sleep horizontal on 3 of the 4 flights ( 7 hours to Bahrain, 6 hours to Madras and then again back). Twice I had 3 seats all to myself. Anita too, who had a sprained ankle, was able to spread herself. One woman in front of me who had 3 seats said she could not believe that the flight was underbooked at this time of the year. What a mighty God we serve!! What He does for his children is almost incredible. He taught me that all we need to do is be thankful for his free extravagant gifts to us!!!
God's children revelled in luxury in Bahrain.

But the icing on the cake was this...... We had a 10 hour wait in Bahrain coming back. They decided to send us... Gudrun, Florence, Anita and myself to a Hilton type of hotel in the most calm beautiful architectural vista of the Bahrain Island (Such a contrast to the dirty loud bustling poverty ridden streets of Chennai we were experiencing 6 hours before). And so just a few hours before landing in the snow of England, Anita and I were swimming in a luxury pool, taking a sauna, sunbathing, sleeping in a top class bedroom and we all finished this 'dream' off being served in one of the finest restaurants with the best food I've ever laid my eyes on, and being taxied by a uniformed chauffeur back to the airport. All for free!! What a wonderful mighty God we serve!!!! Thank you once again for your prayers......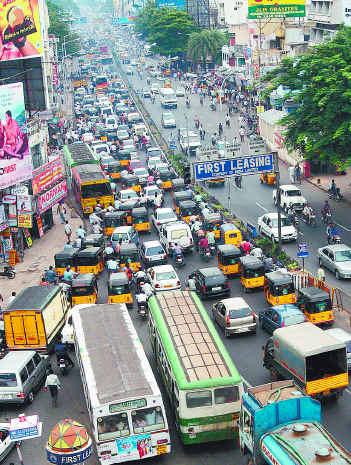 Chennai traffic