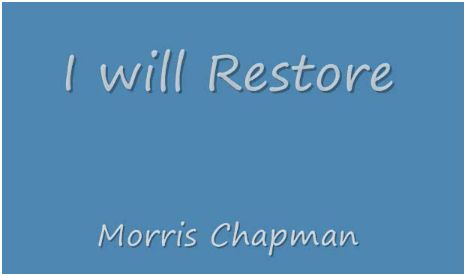 I will restore
I heard this song at Ellel Grange this weekend. The words are beautiful!! ... and so encouraging.
Only in the King James Version and the ASR among 21 versions of the Bible is the Hebrew shuwb, Strong #7725, translated 'render' in Zech. 9:12. That word appears many hundreds of times in the Hebrew Old Testament, and in those appearances it is represented in the KJV about fifty different ways. Five translations read "restore double"; two read 'return' double; two, 'recompense'; two, 'compensate,' of which Jerusalem Bible is an example--"In compensation for your days of banishment I will give you back double." Four versions use other words which promise a blessing. Not included in the ones numbered above are the following four clear indications of the meaning of the Hebrew text of Zech. 9:12: "restore double your former prosperity to you"-- Amplified Version; "recompense two-fold (good) unto thee"--Leeser; "grant you two-fold reparation"--NEB; "repay you twice over with blessing for all you have suffered"--Good News.

"Blessed are the poor in spirit"

Shielded by the mists of merciful tenderness
We find ourselves in posession of vast and awesome wealth, intangible wealth, beyond all earthly recompense.
The great and glorious future that is ours at such great cost to Him,
Who loved enough to lay down his life for His friends
The quiet still waters where he leads rise and overflow from His heart, the spring of mercy, the fountain of joy and love divine.
Priceless are the gifts he bestows on us His children, heavenly and glorious gifts flow gently to our hearts.
Unlocked are His arms to tenderly carry His weary lambs along his road of peace,
Kindness and gratitude He shows in abundance to those who love him.
The weary find rest, the fearful a refuge. The broken-hearted find solace and are cherished.
Sing praises to our God who waits to receive our many burdens, who waits with such inordinate patience to effect our healing.
The sheer expression of his love is gloriously boundless.

Below the fathomless depths of ocean, above and beyond the vault of the skies reaches your love my God.
O, how we need you my God, o, how we need Your love. Bless our need.

Catherine O'Halloran.