Worth listening to!!!!!

Don Francisco

Just Joking

A new pastor was doing his rounds visiting the homes of his parishioners. At one house it was evident that someone was within but no one answered his repeated knocks. Eventually he wrote on the back of a calling card: 'Revelation 3:20' and stuck it to the door.

The following Sunday he was surprised to find his card in the offering plate. Below his writing was scrawled: 'Genesis 3:10.'

He reached for his Bible and thereafter broke into gales of laughter.

***
Revelation 3:20 - "Behold, I stand at the door and knock…"
Genesis 3:10 - "I heard your voice in the garden, and I was afraid because I was naked…"




The Word of the Lord Ministries Int'l

Katey Moreland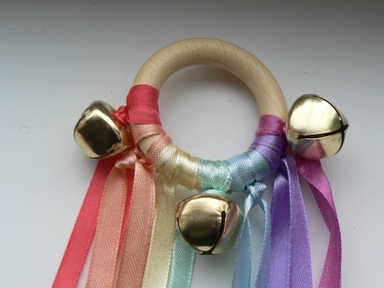 Praise and Worship Rainbow Ribbons
A beautiful gift
15th June 10

The Lord is saying. You are seeing more and more victory on this path with me. Take your eyes off the victory and get your eyes back on me, for you have not seen a fraction of what I have in store for you. You will see more and more victory, not because of your strength or your power, but because of your decision to stay close and walk with me. I will use you more and more, but let fellowship with me be your aim.

John 15:5 "I am the vine; you are the branches. If a man remains in me and I in him, he will bear much fruit; apart from me you can do nothing".

What is the finished work?




Hebrews 4. 1,2,9,10

Therefore, since the promise of entering his rest still stands, let us be careful that none of you be found to have fallen short of it. For we also have had the gospel preached to us, just as they did; but the message they heard was of no value to them, because those who heard did not combine it with faith........There remains, then, a Sabbath-rest for the people of God; for anyone who enters God's rest also rests from his own work, just as God did from his.

When God made the world He rested on the seventh day. The reason He rested was not because He was so tired that He couldn't make another tadpole. He rested because His work was complete. Every orange, cow, fish, pomegranate had the seeds in it to continue its kind over and over again. It was finished, He didn't have to create another tree so that Adam and Eve could feed after they'd eaten all the fruit up from the garden.

When He made Adam and Eve everything was there for them. All they had to do was go and pick the fruit and eat it, They entered straight into God's rest and enjoyed His finished work, His complete provision.

By the seventh day God had finished the work he had been doing; so on the seventh day he rested from all his work. 3 And God blessed the seventh day and made it holy, because on it he rested from all the work of creating that he had done. Genesis 2:2,3.......


The New Creation

There was one other thing that God created after creation. THE NEW CREATION….Us ….He made our new born again spirits complete.


Jesus obtained everything we will ever need when He died on the cross. He will never have to take another stripe for our healing, or take sorrow so we don't have to grieve. He will never have to be punished again for our sins…so we can be made righteous. He will never have to become poor so we can become rich...... And just like at the beginning…

When He cried it is finished....afterwards He sat at the Father's right hand.

All we will ever need has been provided, health, wealth, righteousness, joy, peace, love. All we have to do is ENTER into it.


Next update

more about .....THE FINISHED WORK!!

I'm gonna Walk Walk Walk (in the Work thats already been done)


Email
shirleyhowitt@yahoo.co.uk
(Some people have mentioned that the link to my email doesn't work..... sorry... it looks like if you want to email me you'll have to compose a message and type my email address into your To box)
House of Bread
Sundays 2.00 pm at the Danum Hotel, High St, Doncaster DN1 1DN
in the LEGER SUITE
for Worship, Fellowship, and the Breaking of bread.......
BLOSSOMS OF THOUGHT.

A thimbleful of dreams
lights the way ahead,
each dream split with sun
and oh, so wholesome,
tangible and fluctuating
and spiralling.
Translucent,
thoughtful imagination.
The transcendence
of the impossible,
reaching into time and space,
nurturing all of the inner being
and restoring the essence
of thought out of all recognition,
lifting the mind and inner being
into flights of frivolous fantasy
and longed for security.
Streams of the invisible,
rushing gurgling,
and flowing with gentleness,
through the facets
of each corridor of bleak thought, bringing in light and gaiety,
and awesome imaginings.
Changing dark night into
the flower of amazing
sun-drenched dawn,
wherein we see Your face
O Lord,
stirring with eagerness
to search for more,
to turn the "miry clay"
into lush green pasture,
so soft,
revealing poignant imprint,
pervading the open spaces of the sunlit avenues,
imbued with charismatic resonance, dancing lightly
across the horizon
of ingenious langour,
where the blossoms of yesterday hang tenderly on the bough
of our mind,
releasing aromatic scent
of invitation to bowers,
festooned with woodbine and hanging baskets of oriental spices, with iridescent hues
calming all the senses,
and affecting all with enhanced exploration of thought in flight,
and rainbow brilliance
nourishing the soul
with wonderment and aesthetic quality.
Blossoms of thought in-dwelling
the human spirit and elevating
each fibre with enrichment
of notion and contment of state, brought into use
for the breaking down
of awkward barriers
of excruciating heart-break and pain,
having a corrective quality,
transcending all indulgence,
lifting us closer to His heart.
Far above each horizon l
ies a qualatative purposeful character, acknowledging
each inspirational pattern
with measures for transformation
of the highest excellence
known to the human mind,
as like to the harbinger of Spring,
and His enfolding us
in love and joy and peace,
with magnificence likened
to feathered darts,
touching the hurting places,
where heavy boot-prints,
in regurgitation of dark evil,
dared to tread on
and crush the enigmatic and beautiful butterfly of thought.
Blissful scents
of yesterday's thoughts leave gentle footprints on our soul,
with highly charged glimmer of awesome and indispensable weapon to defeat the foe of harsh
and reverberating hammer
of thoughtlesness and sheer cruelty, the kind that never goes away,
for it is truly the battle
between good and evil.

However we live in great assurance of the prevailing of righteousness,
and the defrocking of all evil intent.
Catherine O'Halloran
Inspirational Moments
by Catherine