The Lord is saying. I am close by, do not worry, I am still your stay and your fortress. All around I am protecting you. You have no need to fear. But why is fear looming large? I tell you that the enemy of your soul is after something..... to take some ground..... Some ground you have recovered recently. Stay firmly on that ground you have won back, by your decision to trust in My word. It is very important for the future, for your sake and others..

Adventures in India...... Goodbye to Tenali !!!!!
....Sunday 13th December 09
Our last afternoon in Tenali was quite emotional. We went to Brother Raju's for lunch. As Anita writes "After lunch Anupama's Mum came over and she gave her life to the Lord, which was really good. Anupama must have been very happy to know that her Mum will be with her for all eternity. Praise the Lord!!...... The children gave us flowers. We prayed for Raju and his beautiful wife Anupama and his gorgeous children Reney and Joy" ... there were quite a few tears.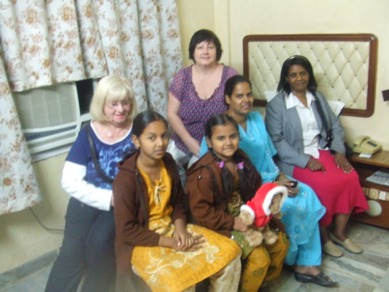 We headed back to the hotel where I had my third shock. The bottle of homemade lemonade I had made when I first arrived and couldn't eat anything exploded with such force that I think it could have had us arrested. Its a good job I didn't take it on the plane back, before trying to open it. It must have been the cayenne pepper I'd added!!..... Better not give anyone ideas.... its explosive stuff!!!
Pastor Enoch, Raju and Prakesh came to pick us up and took us shopping in a bargain basement store. It was so hot and humid but we were there for about an hour and a half. Gudrun was getting all the shop assistants saved. One particular girl who was already saved was so delightful... she said she would never forget us and would pray for us always. We went back to the hotel to finish off our packing.
Brother Raju rang us at 5 am to wake us. They all came over to say goodbye . Raju, Anupama, Reney and Joy, Sabu (our taxi driver), Enoch and Prakesh. It was a work of art the way they got us and our luggage to the station, in a matter of minutes, between them, the taxi and a motorbike.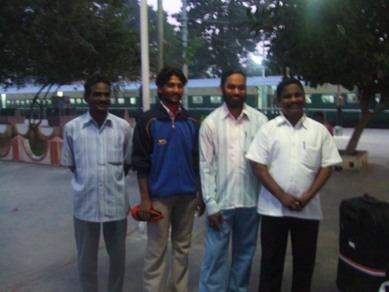 Sabu .... Prakesh..... Raju....... Enoch
Anita writes "I am going to really miss them so much.. they have been so wonderful to us, no one could have been so better looked after than we have been these past few weeks.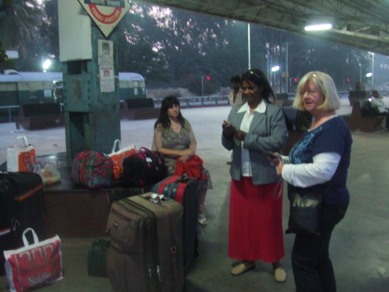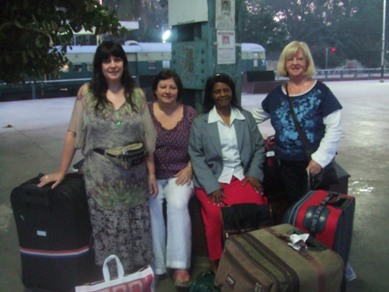 Shirley..... Anita..... Florence........Gudrun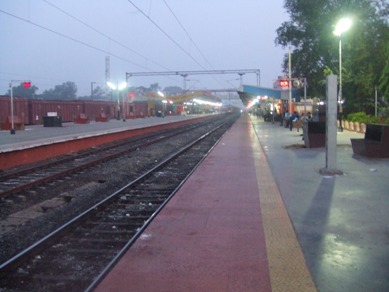 It was touch and go this morning whether the train would be able to take us. Because of the strikes in Tenali there was a real threat of our journey being cancelled. But we prayed and everything went ok. Brother Raju and Enoch came with us on the train to Chennai to hand us and our luggage safely to Joshua just as Raju had promised at the beginning, ..... that he would keep us safe and we would not have to worry or fear about anything. Anita writes.." I am really so very sad to leave and I know that a piece of my heart will always be in Tenali and if God can work it out .. I will be back!!!
..........