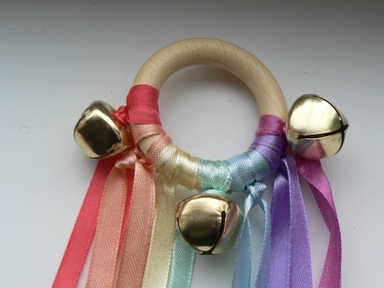 Praise and Worship Rainbow Ribbons
A beautiful gift
11th April 2011

The Lord is saying. Have you ever wondered why circumstances seem to be harder than the ones you overcame in the past?. Look back and see that although your difficult times seemed insurmountable then, you eventually overcame. You will overcome all that you will ever face as you walk with me

The Israelites were overwhelmed by the size of the giants in the promised land. The majority turned back. Never turn back. Each giant seems bigger each time to you, but to me the giants are bread to help grow my saints. I have already overcome every giant you will ever face. Face them with courage, face them with joy and anticipation. I will always lead you in triumphant procession. Never turn back. The bigger the giant the greater the glory.

But thanks be to God, who always leads us in triumphal procession in Christ and through us spreads everywhere the fragrance of the knowledge of him. 2 Corinthian 2:14

Onward, Christian soldiers,
marching as to war,
With the cross of Jesus going on before.
Christ, the royal Master,
leads against the foe;
Forward into battle see His banners go!


Refrain:


Onward, Christian soldiers,
marching as to war,
With the cross of Jesus going on before.
At the sign of triumph
Satan's host doth flee;
On then, Christian soldiers,
on to victory!


Hell's foundations quiver
at the shout of praise;
Brothers, lift your voices,
loud your anthems raise.
Like a mighty army
moves the church of God;
Brothers, we are treading
where the saints have trod.


We are not divided, all one body we,
One in hope and doctrine, one in charity.
Crowns and thrones may perish, kingdoms rise and wane,
But the church of Jesus
constant will remain.


Gates of hell can never
'gainst that church prevail;
We have Christ's own promise,
and that cannot fail.
Onward then, ye people,
join our happy throng,
Blend with ours your voices
in the triumph song.


Glory, laud, and honor
unto Christ the King,
This through countless ages
men and angels sing.
Fear Not My Child


(Taken from Katey Moreland's book, Fear Not My Child, yet to be published)


Week 32 (09.04.11)

'

'The officers shall speak further to the people, and say;
"What man is there who is fearful and fainthearted?
Let him go and return to his house,
Lest the heart of his brethren faint like his heart'
Deuteronomy 20: 8'





Be gracious to all people, but choose your companions carefully! It's not only evil company that corrupts, but negative company does the same. God is giving the order here of sending the fearful back home rather than into the battle. If you're called to do something that demands faith, be willing to release the fearful from accompanying you; you can't demand someone else have your level of faith! If you take them with you, their fear will only destroy your faith on the way. Instead protect the faith you've been given by getting around like-minded people, and listening to and reading about men and women of faith (there's plenty of them in the bible!)

Dear Lord,
Thank You for the faith you have imparted to me. In overcoming my own fears, please give me the wisdom and confidence to move away from negative responses that will fight to destroy the faith You have given me. Please give me the ability to grow into a mighty warrior in the army of the Lord Jesus. Amen!






Prayer Requests
Dear Shirley,

Wonder if u could put these prayer requests on your House of Bread?
First, the mother of a friend of mine has been admitted to DRI, she's in her eighties. My friend is convinced she's had a stroke, but the nurses are non-committal. She hasn't yet been seen by a DR, and she's not having any treatment although her face has dropped and she can no longer remember simple things etc.
They said they must wait for her to have a scan, but days have passed and her mind is deteriorating. She might b a Christian or might not, so prayer is needed for her Salvation as well as for DRI to treat her humanely and not give up on her.

Next, the 44 year old daughter of a friend of mine has been ill for about a year. She is undergoing test after test, She has a thyroid condition and Vit D deficiency and Heaven knows what else. She is so ill that she can't drive and stays in bed most weekends. She has a high-powered stressful job that she can't take leave from as she's the only breadwinner, her husband doesn't work.They have no children.She's a Christian. Please pray that the doctors get to the bottom of her condition.

Thank you

Jacky

Please pray for M who is on all sorts of tranquillisers and anti-depressants that she will be able to have a vision for the future and that she come into the full potential of all her talents and be set free in her mind completely. Her greatest need is to be able to be free from negative thoughts in the morning.

Please pray for N who is having an operation for cancer today. Pray that all of it will be taken away, that she will be strengthened and make a good recovery.

Please pray for L. She has 6 children. Her eldest, just a young teenager has tried to commit suicide on numerous occasions. Her son's homework is anger management and all the family have stopped going to church. L is smoking and letting the children smoke. Please pray and cover this family against the attacks of satan and that the root problems will get dealt with.

Please could you continue to pray for A's son that he will stay free from drugs and from the people who encouraged him in the past to take them. Please pray for his complete salvation in Jesus.

Thank you for prayers for the P family. After prayer the husband is walking about now. Please pray that their finances will be kept safe.

Please continue to pray for Jack who has cancer.

Christian Bookshop
The bookshop is meeting its rent every week by the grace of God.
I would like it to expand to sell Christian cards. Please pray for this resource to be found as many people ask for them.
I am getting many divine appointments, but I need prayer support to help me to keep strong. Your prayer is gratefully welcomed.
I would like to personally thank Jackie for her donation that met the rent just when I was feeling very discouraged about the success of the bookshop. Many people came in on Saturday to reaffirm that God wants this bookstall in Doncaster.
Also a thank you to John for such great encouragement and prayer that morning, just when I needed it.
Thanks
Shirley
The Word of the Lord Ministries Int'l
Katey Moreland
What Katey's doing next.......