The Lord is saying: Come to me and let me show you that I am all that you need to be in every circumstance. My grace to you is constant and sufficient in all the circumstances of your life. Know this that I cannot and will not fail you. But I am always there, ever present, ever able. Come to me and let me show you I am near.

Hebrews 13:5 . . ."Never will I leave you; never will I forsake you."
2 Corinthians 12:9 And he said unto me, My grace is sufficient for thee: for my strength is made perfect in weakness.


.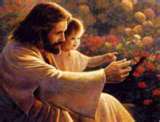 "I will never leave thee."

The earth seems still
when no one is there.
An empty place.
No creaking chair,
The light seems dull.
Does anyone care?
Then lifting my gaze
I see the swift in the air.
I remember again,
That I'm not alone,
Although no one calls
And I feel on my own,
The birds that I see
Are a rememberance to me
Of his words ringing free
"I will never leave thee
Nor forsake thee.
Catherine O'Halloran.